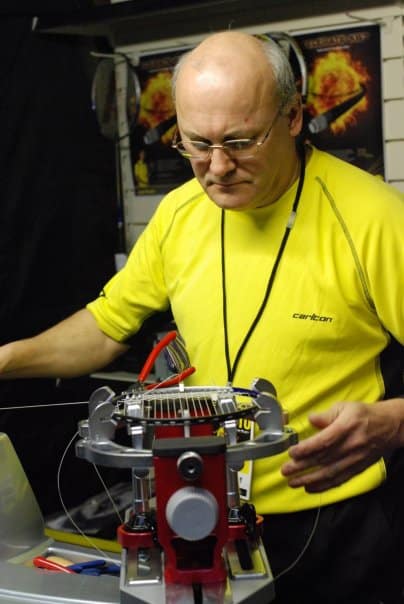 David Hall is the owner of Racket Sport Services, providing a pro shop and stringing services both at Frinton-on-Sea Lawn Tennis Club, a home-based stringing service in Essex, England.  His initial training as a stringer was provided by the company who sold him his first machine back in 1986. He is a founding member of the UKRSA and his experience of all racquet sports has provided him the opportunity to work at many tournaments.
He has worked at Futures events in England, and at the WTA and ATP event at Eastbourne, where in 2009 he was head stringer. David is also an accomplished badminton stringer, stringing at the English National Badminton Championships for a number of years, many badminton age groups championships and national premier league weekends. David has attended five IART symposiums and recognizes the value of the event for his own personal development as well as the opportunity it presents to share knowledge with others and learn from the best in the world.
Being a member of IART has also resulted in an expansion of his own business in becoming the sole UK distributor for string companies, YTEX, Diadem, StringLab and Still in Black. He is also the UK and Ireland Territory Manager for the newly revived Snauwaert brand of rackets and ancillary products.